Photo Album
Page 1 - Early Days in France
Here are a few of my favorite snapshots from different points in my musical journey. Enjoy!
Early Days in France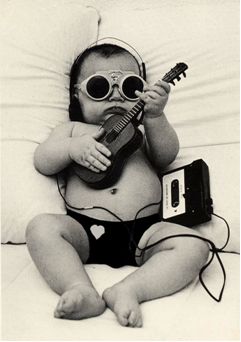 This is how it all started — at least that's how I like to remember it...
---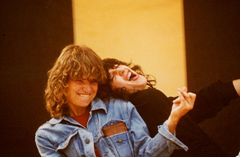 In truth, I was a few years older when I started playing guitar, and the guitar was an air guitar. Despite my young age and lack of formal training, I was amazingly good! (I'm the guy on the right playing lead.)
---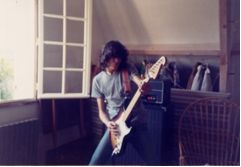 Mom got me my first guitar when I was 16, and my uncle was kind enough to let me crank up the amp over at his place. I had a lot of fun, but I soon realized that I had an incredible amount to learn. Luckily, I was intent on getting to the point where I could play with my favorite local band, and this gave me the motivation I needed put in a little time and effort.
---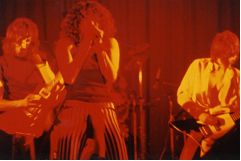 My work paid off and I was ultimately able to join the band. Years of weekly live shows followed. Playing live was an incredible adrenaline rush. As soon as I got a taste of it, I just knew: "This is it; I'm a musician and playing guitar is what I want to do for the rest of my life!"
---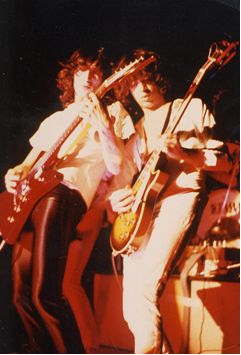 Learning all the parts that Phil (the band's other guitar player) was coming up with was a good learning experience. It was all original material in the vein of early Def Leppard.
---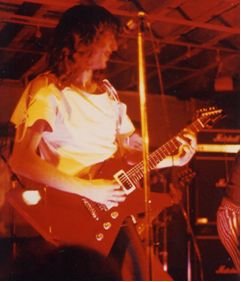 I practiced a lot and we played lots of gigs, so I became a better, more confident player. I remember buying the white leather shirt shown above while in Amsterdam. What can I say? It was the 80s...
---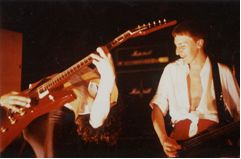 Our fans were great and we did our best to put on a good show.
---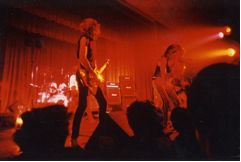 Having a talented singer and getting bigger gigs made us all feel a bit like rock stars — not a very healthy thing for a teenager. Fortunately, beyond the superficial trappings of local stardom, I really loved music for itself. I found myself longing for more time to work on other styles of music. In time, I outgrew my first band and realized it was time to move on.
---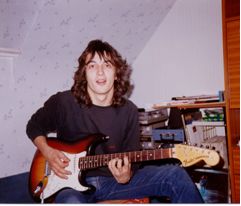 It was around this time that I implemented a more structured approach to working on what I really needed to do to develop as a player. I took many lessons with teachers in my home town and in Paris, and I spent long hours next to my stereo transcribing guitar parts. I also continued a less intense performance schedule with various other bands. My biggest disappointment during this period was having to settle for average singers. I wanted to work with top-notch vocal talent — the kind of singers who bring magic to the songs! This made me all the more motivated. Incidentally, this was also the time when I began to teach regularly.
---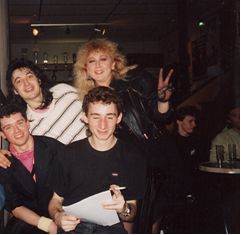 After a few more years of studying, playing, and teaching, I formed a band with my favorite local musicians. We called ourselves Sweet Connection. I loved playing in that band. Each member was an experienced and fluid musician with a deep love for music. Moreover, everybody was a genuinely nice person with great respect for the other band members (which wasn't hard — there was a lot to admire!).
---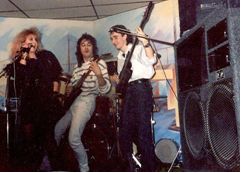 Claudie could really sing and the chemistry between us was fantastic. Each of us followed such a ridiculously demanding practice schedule at home that we just couldn't wait to get on stage and let it rip! We played songs by The Police, Journey, Toto, and lots of funk jams (Chic, James Brown, Red Hot Chili Peppers, etc.).
---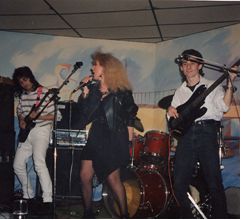 We were really serious about our music! I moved to Los Angeles to attend GIT (the Guitar Institute of Technology), and Claudie came the following year to attend VIT (the Vocal Institute of Technology).
---