Photo Album
Page 2 - Los Angeles
Here are a few of my favorite snapshots from different points in my musical journey. Enjoy!
Los Angeles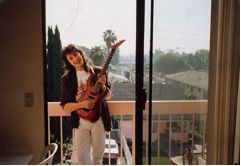 My first days in LA, music capital of the world, complete with California sun and palm trees in the background! It was the beginning of a love affair with this wonderfully musical country. I felt like I had truly found a second home. That being said, my music studies got very serious at this point. Thankfully, the previous decade of lessons and experience made it possible for me to handle the intense pace of training I set for myself in LA and helped me get the most out of these years.
---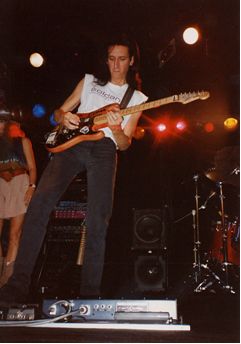 Mike Landau live at GIT. A live demonstration at GIT by legendary session player Michael Landau. The backup vocalist on the left is Sheryl Crow (before she became famous).
---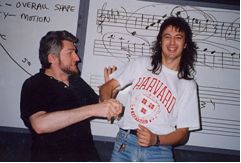 Getting put into an arm lock by Carl Schroeder. To remain sane at GIT, you had to have a little fun sometimes. Jazz pianist Carl Schroeder (arranger for Duke Ellington and Count Basie, among others) was one of my arranging teachers. He was famous for always backing students into a corner with a series of deviously challenging musical questions. In this picture, I had just beaten him at his game and had tried to secretly give him rabbit ears for the benefit of my classmates. He caught me, put me in an arm lock, and made me repeat in front of the whole class: "I can't think straight. I got lucky once, but I have no future in music. I can't think straight. I got lucky once, but I have no future in music. I can't think straight..." (LOUDER! LOUDER!) One of my friends had a camera on hand and caught the moment for posterity.
---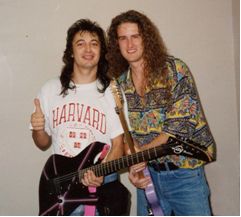 My Private Instructor and Mentor Nick Nolan. Nick is a very smart player and learning from him was invaluable. I would need days just to list all of the things I learned from Nick. I felt privileged that he respected my ability enough to disclose key strategies for improvising over complex changes — secrets that he did not share with just anyone. Thanks, Nick — I owe you big time!
---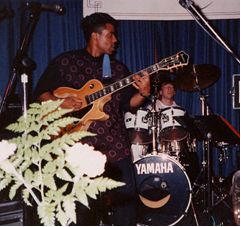 Jazz/R&B Virtuoso and Teacher Norman Brown. Outside of our lessons, I took every opportunity to see Norman play live, and he was always the crème de la crème. After years of living on teaching and session work, Norman (like too many other world-class musicians) was still unsigned! To me, this was a crime, and at one point I cornered two Motown A&R execs in a club and lobbied them vigorously on his behalf. Some of Norman's relatives overheard me, and I spent the rest of the evening being treated like a member of the family. Four months later, Norman was signed to Motown records. I wish I could claim some of the credit for this, but anyone who has ever heard Norman play knows that he did it 100% on his own.
---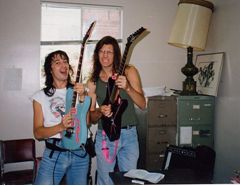 Rock Jam with Paul Gilbert. Paul was often into swapping guitars during lessons.
---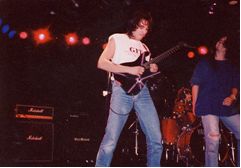 Live at GIT with Danish pop vocalist Melane.
---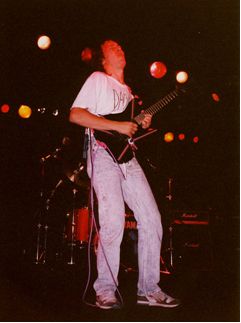 Jazz Improv On Stage at GIT. Time to use all those jazzy arpeggios and Larry Carlton phrasing on the fly.
---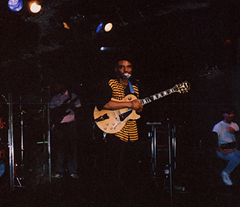 Jazz Improv On Stage at GIT. Jazz master Norman Brown. No one ever wanted to be the first to follow him on stage for some reason...
---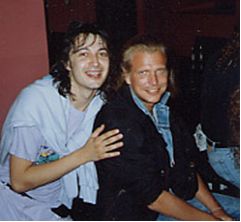 Michael Schenker. German guitarist Michael Schenker (of UFO and MSG) had been one of my guitar heroes since I was a teenager and meeting him was a real thrill. Michael was doing a little teaching on the side, at $200 per hour. Not a bad gig for part-time work...
---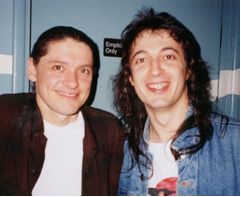 Robben Ford. World-class blues phrasing coupled with a total mastery of blues-jazz harmony. Definitely the best player in that style I ever had a chance to study with.
---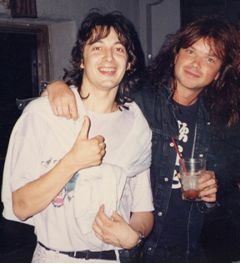 European guitar players. Hanging out with fellow European guitar player John Norum, guitarist for Swedish band Europe.
---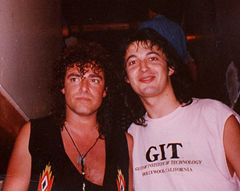 Neal Schon. Here I am with one of my favorite players and longtime heroes, Neal Schon, guitarist for Journey. Neal is truly a master of melodic rock guitar, with near-vocal expressiveness. This is backstage in San Juan Capistrano. A lot of remarkably attractive women were competing with the camera for Neal's attention, and the camera lost. I can't blame him. I almost didn't look at the camera myself...
---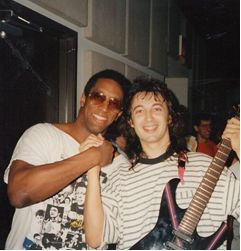 With Hiram Bullock. After a tight live performance at GIT with New York R&B studio ace and groove-master Hiram Bullock. (Hiram remembered me from Paris!)
---
With Vinnie Moore. At GIT with neoclassical rock guitarist Vinnie Moore.
---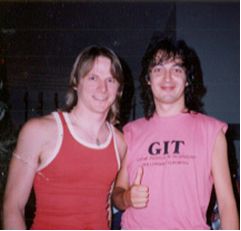 With Steve Morse. Helping Steve Morse set up for a show in LA.
---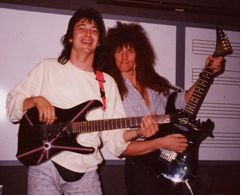 Teacher Extraordinaire Gary Hoey. At GIT, Gary used to teach group lessons on improvising. They were so fascinating that I didn't miss a single one. After graduating from GIT, I continued taking private lessons with Gary at his place and learned a huge number of crucial things from him. (I also took keyboard lessons from Gary's wife, Lori Weinhouse. They were both great human beings and I really enjoyed that time!) Despite being a very driven professional, Gary has always been one the nicest musicians I have ever dealt with. I really cherish his contribution to my guitar playing. His warmth, friendliness, and know-how made him a very special teacher. I was extremely fortunate to catch Gary in his last year of teaching — his professional career as a solo artist took off right afterwards and Gary hasn't taught a single private guitar lesson since.
---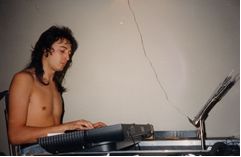 Practicing Keyboards Late at Night in LA. There is something about playing and composing at night. You can keep going free of any distractions and pursue an idea for as long as it takes (well...unless you have to get up the next day!).
---