Photo Album
Page 4 - Home to Seattle
Here are a few of my favorite snapshots from different points in my musical journey. Enjoy!
Home to Seattle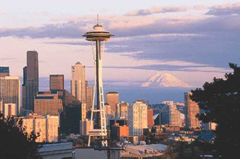 Arriving in Seattle. Our beautiful Emerald City — how I LOVE it! Only two months after arriving here, I already knew I had made the right choice!
---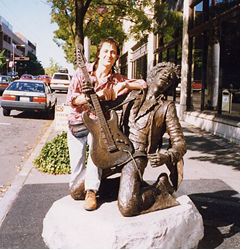 Paying Homage to the Town's Greatest Guitar Hero. Here I am hanging out with my pal Jimi Hendrix on Broadway (in my imagination, at least)! This was the starting point in a series of things I did to get into the vibe of the Seattle music scene. I immediately fell in love with the City and especially the friendliness and unpretentiousness of the people. Seattleites made me feel very welcome. I had a lot to learn, but I knew that getting into the local culture was going to be a blast!
---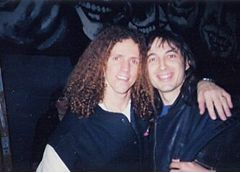 A Joyous Reunion. Getting together with Gary Hoey in the Seattle leg of his US tour.
---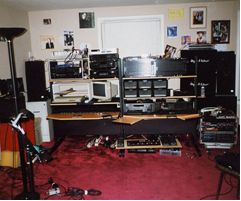 Setting Up My Home Guitar Studio. I teach out of my home studio and I like to have a full array of tools on hand for my students when the need arises. At this point, I was completing preparations for launching my guitar teaching business in Seattle — I was committed to serving the community to the best of my abilities.
---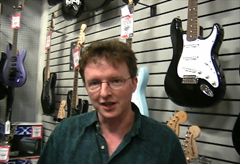 My friend Matt Blair at Guitar Center. Matt has managed all four Seattle-area Guitar Center stores at different times. (At the time this is being written, he is managing the Kirkland store, in the Totem Lake Mall.) A well-educated musician and truly decent human being, Matt has always been a pleasure to deal with.
---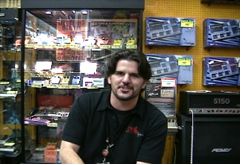 My friend Christian Aten at Guitar Center. This guy knows his stuff! After years of managing the accessories department at the Seattle Guitar Center store, he moved up to become head of accessories for the entire region. Christian was recently promoted to a position at Guitar Center's flagship store in Hollywood.
---

A True Beauty (Not that kind). Ever since I started playing guitar I have liked figured wood tops, but finding this beauty was definitely a thrill. Couple Tom Anderson's legendary craftsmanship with the Buzz Feiten Tuning System, and you have an instrument that is a pure joy to play. (In the Seattle area, you can find Tom Anderson guitars at the Guitar Center store in Tukwila. But be warned! If you try one, you may get hooked!)
---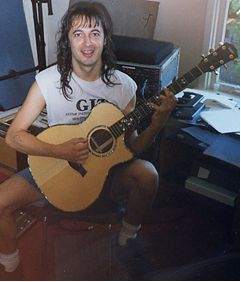 Having Fun with an Acoustic. Here I am playing a beautiful Taylor 900-series guitar. As a player, I tend to prefer the electric guitar which I see as offering a greater range of sonic possibilities. As a songwriter, however, when I first set out to write a tune I prefer the organic sound of an acoustic. The simplicity and purity of the tone help me focus on the essential task, which is working out the intricate relation between the chords and the melody. Once the song is written, I can move on to secondary concerns like sound production, and here I go back to electric.
---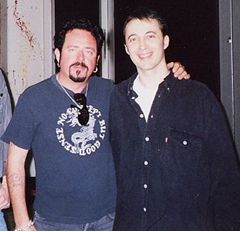 Steve Lukather. I was ecstatic to have the opportunity to chat with another longtime personal hero, Steve Lukather. "Luke" is a brilliant guitarist, vocalist, songwriter, arranger, and producer, who is probably best known for his work with Toto. He mentioned that he had recently produced an album for Jeff Beck. He said that although it was some of the best stuff Beck has ever done, it had still not been released. I hope I will get to hear this gem one day, and I know I am not alone in this!
---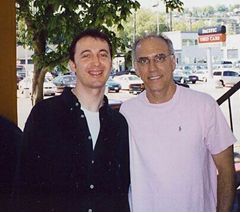 Larry Carlton. Larry is possibly one of the most musical guitar players I have listened to. Larry is a very well educated player, and we talked about the role lessons had played in his development as a player. He told me that at one point in his amazing musical journey he took weekly private lessons from the same teacher for eight straight years. He was obviously a dedicated student and his efforts have certainly paid off! He has been recognized as one of the world's top guitarists for over two decades. In addition to being a great musician, he is also a true gentleman. All in all, a real class act.
---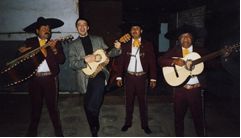 A Change of Pace. Here I am at a friend's wedding in Mexico trying my hand at the happy 12/8 rhythms of mariachi! There is a fantastic variety of music on Earth and I love so much of it. I have done a little work with different African, Asian, Indian, and Middle Eastern styles. It's fun using some of these concepts in different musical settings when appropriate.
---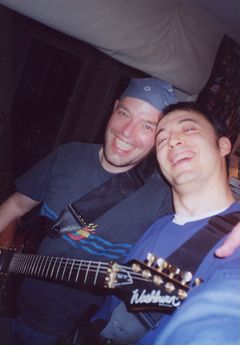 Goofing Off with My Good Buddy Peter. Amateur guitar player, translator, computer whiz, funny guy, and ever-supportive friend — my good buddy "Tonton Pete"!
---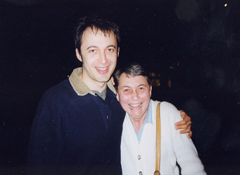 My Dear Mom Visiting Me in Seattle. I couldn't do a photo page without including a picture of my mom. I couldn't have achieved what I have without her help. Thanks a million, Mom, for helping me realize my dreams. Often, when I reflect on the joys a life in music has brought me, you walk into my heart.
---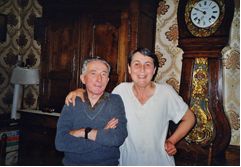 Mom and Dad at the Family Home in France. Even though my father enjoys French accordion music, neither of my parents is a musician. Nonetheless, they managed to create one, and I love them dearly for it. Since they live in France, they are beyond "hug's reach," but by sharing a photo of them with all of you — my visitors, friends, and future students — it makes me feel that they are a little closer to my life in Seattle.
---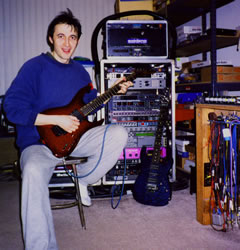 Dress Code. One nice thing about being a musician is that you can wear whatever you want in the studio, as long as you sound good. (Kind of like George Costanza and his black velvet track suit)
---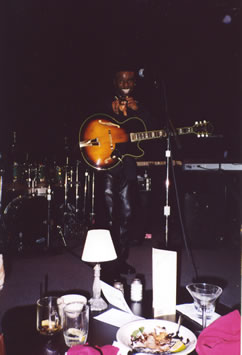 Hey, Frenchie! This one's for you! Norman Brown on stage displaying his contagious passion and warmth at the end of a song I really wanted to hear. Norman's live performances are melodically supercharged and incredibly heartfelt - in short, unbelievably potent! Yet another magic moment at Dimitriou's Jazz Alley in Seattle.
---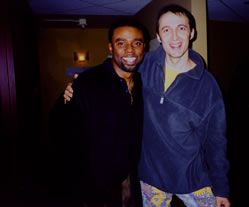 Norman and Pascal - Music is the conduit. When I last met with my former teacher Norman Brown, I brought him a photo to sign as a memento of our time together. What he wrote touches me to this day: "Pascal, my student and friend, I am so proud of you. Keep passing the love on, Norman."
---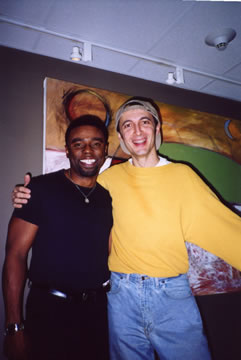 Pascal-Norman Aura. I don't know if it's because he won the 2003 Grammy for Best Pop Instrumental Album, or if it's simply because of his innate talent, but Norman was sporting a visible aura on most pictures we took during his five days in Seattle. He assured me he's still a mere mortal, but I've been calling him "Saint Norm" all the same.
---
All Smiles. Norman and I spending time relaxing with Jasmine and Regina after a show.
---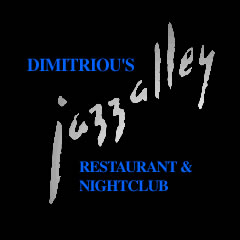 Dimitriou's Jazz Alley - My favorite hangout when I'm in the mood for jazz (and great food!). Sometimes a player comes along that I think my students really have to see, and Jazz Alley has gone the extra mile to make it possible by offering special discounted rates through me. I think everyone - my students, their families, the artists, the Jazz Alley staff, and I -has had some great times and found some real inspiration at these shows, and I'm looking forward to arranging for more of them in the future. A big tip of the hat to Seattle's foremost jazz venue, Dimitriou's Jazz Alley!
---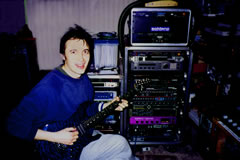 "Christmas Tree". Guitar players call these huge multi-unit effects racks "fridges," and if you've ever tried to move one you'll understand why - these things are heavy. This one is a technical marvel, and when it's all lit up, it looks like a Christmas tree. Hats off to Scotti and Tommy for designing and building such a great piece of gear.
---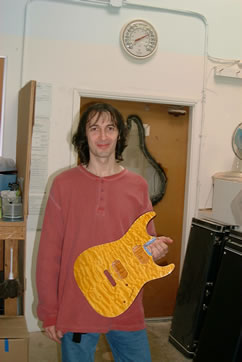 Gorgeous Bodies. Checking out the latest batch of gorgeous quilted guitar tops at Tom Anderson guitar factory courtesy of my good friend Jon K. Thanks Jon for the wonderful stay in sunny Santa Barbara. Next time you have me over, let's take one day off and drive down to Lake Elsinore for a visit to John Suhr guitar factory, okay?
---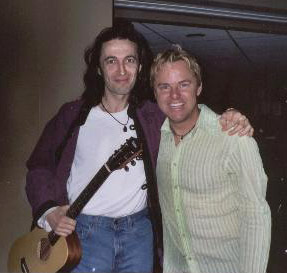 Positive Energy. For "Positive + Energy", Steve Oliver wrote lively tracks full of joyful melodies carefully harmonized with beautiful chords. His voice has tremendous range and versatility, his guitar playing is just as inspired and his arranging and production skills support it all nicely. I find the combination unique and fresh, I enjoy that CD! I am glad I could hook him up with the Jazz Alley, he is a great performer and the nicest guy!
---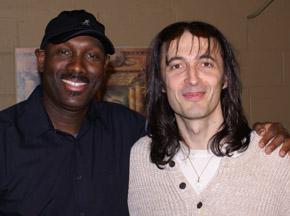 Hanging out with my buddy - Guitarist Carlyle Barriteau, backstage at Jazz Alley. Have you heard of Bobby Caldwell? Bobby Caldwell is a seriously talented songwriter / arranger / programmer / keyboardist / guitarist / vocalist. Playing guitar for him is quite a musical achievement in a guitarist's career. I am glad to report that the job is done beautifully by my good buddy, talented guitarist/singer Carlyle Barriteau. Carlyle's parts groove, support the melodies, and add lush textures to the songs. Wonderfully done indeed Carlyle! :-)
---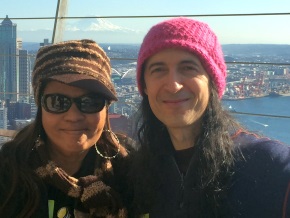 High in the Sky. Meet my fearless friend Gail Jhonson, the outstanding keyboardist and musical director for Norman Brown as well as for JazzInPink, the all-female ensemble featuring extraordinarily talented violinist Karen Briggs.
---